United Imaging Healthcare Partners with Sunway Medical Centre to Advance Molecular Imaging Solutions in Cancer Diagnosis
United Imaging Healthcare (UIH) and Sunway Medical Centre (SMC) announced their partnership agreement. The two sides will work closely to optimize imaging protocols with AI-modelled reconstruction and explore new possibilities in cancer diagnosis.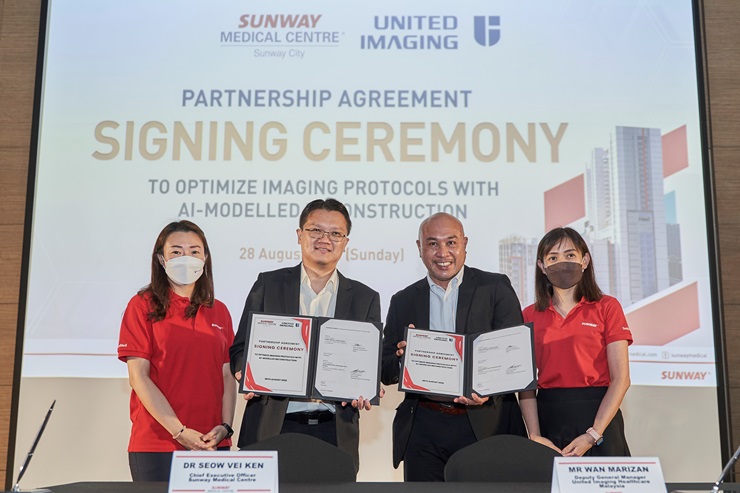 The Partnership Agreement signing ceremony to optimise molecular imaging protocols using artificial intelligence (AI) technology for cancer diagnosis, signed between Dr Seow Vei Ken, Chief Executive Officer, Sunway Medical Centre (second left) and Wan Marizan Wan Majid, Deputy General Manager, United Imaging Healthcare Malaysia (second right).
This partnership is based on UIH's digital PET/CT system, the uMI 780. The ultra-fast, high resolution digital PET/CT transforms traditional imaging by offering whole body coverage with 30cm axial field of view.

"SMC is the first hospital in Malaysia to acquire this advanced system. This system provides the best NEMA resolution in the industry 2.9mm, which translates to greater imaging clarity and accuracy in detecting small lesions. It is also highly sensitive with high speeds that enable quick data acquisition with a low dose compared to traditional systems, which improves the hospital's operational efficiency and reduces scanning time for patients. " explained Dr Heng Siew Peng, General Manager, Sunway Cancer Centre.

"Sunway Medical Centre is poised to providing world-class healthcare service. We are proud to cooperate with such an important partner with shared commitment in Malaysia. Every life is equal and precious, we hope our endeavour will optimize the cancer treatment process and ensure that compassionate care is given to each cancer patient, this is also our mission 'To Bring Equal Healthcare for All'," said Evan Wang, General Manager of UIH Southeast Asia.
In addition, their partnership is further strengthened as the two parties decided to set a regional hub at Sunway Medical Centre. A team of UIH experts and healthcare professionals in Sunway Medical Centre will come together to demonstrate the full potential of the uMI 780 as well as cultivate knowledge sharing on the advantages of digital PET/CT.

"We are honoured to be partnering with UIH to become a regional hub in the Asia region. This marks another important milestone in our efforts to promote continuous advancement in clinical knowledge and practice. This partnership will secure Sunway Medical Centre's position as a leader in the field of molecular imaging in Malaysia and in Asia," said Dato' Lau Beng Long, Managing Director, Sunway Healthcare Group.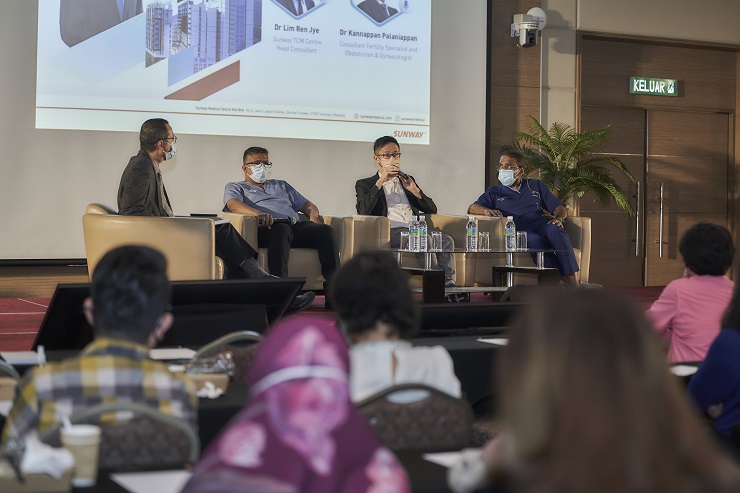 Sunway Medical Centre's Oncology & MIS Symposium 2022
The partnership was culminated in a Memorandum of Understanding (MoU) signing held in line with Sunway Medical Centre's Oncology & MIS Symposium 2022. The event explored new approaches and advancements in cancer screening, diagnosis and treatment where distinguished specialists shared their expertise on cervical, lung and prostate cancer. The hybrid event had more 100 participants at SunMed Convention Centre and more than 500 participants on a virtual platform, mainly healthcare professionals and general practitioners.